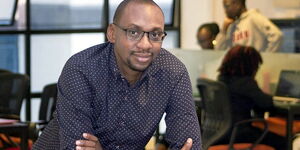 Ken is a co-founder and also serves as the group Co-CEO of Cellulant, a leading multinational one-stop digital payments company.
In 2019, he proved to be the most resilient CEO of the year, considering that his company, which has firmly planted its roots across the continent, emerged from the dark shadows of the Riverside attack that claimed 21 lives.
The company lost six of its managerial staff during the mid-January attack.
After working shortly for an Internet service provider (ISP), he co-founded his first venture in 1998, 3mice interactive, East Africa's first web development company.
As Cellulant's founding CEO, Ken has led the company from an idea sketched on a serviette in 2002, to a reputable company in Africa with more than 350 employees across 11 markets.