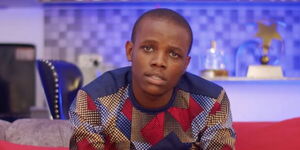 Kennedy Odhiambo, who is popularly known as Crazy Kennar, is a Kenyan content creator who specializes in comical skits and is a brand ambassador as well.
His comical videos on social media have attracted a large local and international following. In November 2022, he travelled to London for Meta creator week representing Sub-Saharan African creators.
During his time in London, he interacted with other content creators including the famous Tik Tok sensation Khaby Lame.
His YouTube account has over half a million subscribers with his top video amassing over six million views.
The 24-year-old's YouTube channel, together with brand promotion, is a good source of revenue for the rising star.
His Tik Tok account has over half a million followers that see him attract millions of views. On Instagram, he has over 800,000 followers and over 600,000 on Facebook.
Apart from comedy, Kennar has also ventured into the hospitality industry owning his own restaurant in Juja, known as Instant Delicacies.