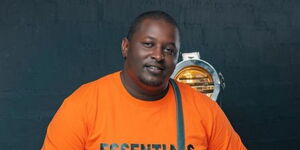 Lawrence Macharia popularly known as Terrence Creative is a creative director, content developer, scriptwriter and talent manager.
Terrence, who is also a comedian and has worked at Kenya's most popular comedy show Churchill as a creative director, has continued to rise to fame through his parody skits that imitate Kenyan politicians.
The 2022 August general elections provided Terrence an opportunity to display his creativity within the comedy industry.
Partnering with fellow comedian Mammito Eunice, they produced a satirical piece mimicking Kenya's Deputy President Rigathi Gachagua and his wife pastor Dorcas Rigathi.  
The first video of the four part series dubbed 'The Naibus' was able to accumulate over half a million views in two months.
In addition, his YouTube series, Wash Wash Biziness, that debuted late last year and is a three-part series, trended at number one on its release date and has accumulated over 1 million views.
Terrence continues to climb the social ladder and this is seen by his large social media following becoming one of the most followed content creators in the country amassing a following of 743K followers on Instagram, 656K followers on Facebook and 411K subscribers on his Youtube Channel.