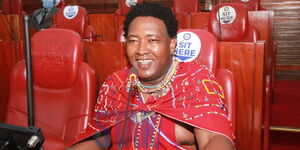 Ledama Ole Kina is a Kenyan Senator representing Narok County. He was re-elected to the position during the August 9, General Election in which he played a key role in an effort to get former Prime Minister Raila Odinga to the Presidency.
The lawmaker first joined Parliament in 2017 on an Orange Democratic Movement (ODM) ticket and rose through the ranks to become the Chair of the powerful Senate County Public Accounts and Investment Committee (CPAIC).
He later, however, agreed to step down from the committee position after holding a private meeting with former  Prime Minister Raila Odinga.
He is also a well-known advocate for the legalisation of marijuana highlighting its supreme benefits.
He explained that he was considering the move for "health reasons and also for commercial hemp reasons."
In November 2020, he caused a stir when he dressed in traditional regalia to the Senate.