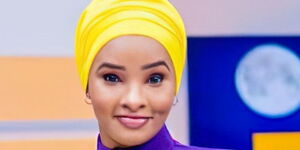 Lulu Hassan is a leading Kenyan television news anchor and reporter with Citizen TV.  She hosts Citizen Nipashe and Wikendi news bulletins in Swahili alongside her husband Rashid Abdalla.
She earlier trained as a cabin crew hostess, human resource manager, and ticketing officer after her high school before studying Communication and Journalism.
She previously worked for Radio Salaam in 2008 and later worked for  KTN.
Lulu has been reporting on stories that call for social justice especially on marginalised groups. She has become a household name through her family show that brings on board marriage experts who discuss challenges many couples face.
Lulu and her husband are the brains behind the famous Maria TV series, a show that has come to be loved by many.
Her 'Prison Diaries' saw the High Court in Machakos allow for a retrial of a rape case in 2020, over a year after a her TV feature unearthed evidence that put the convict's conviction to to life sentence in question.