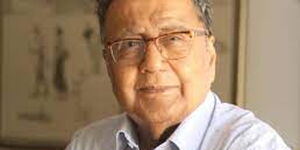 Dr. Manu Chandaria, OBE, EBS, is a successful business person and founding chairman of the East African Business Council and the Kenya Private Sector Alliance, an umbrella body representing over two hundred sectors and organizations.
He is a Council member of the University of Nairobi which awarded him a Doctorate of Sciences. 
In 2003, Her Majesty Queen Elizabeth II conferred an Order of the British Empire (OBE) in recognition of his community work and promotion of Kenyan economic interests.
He is the benefactor of numerous schools and clinics in Kenya and is or has been involved with more than 25 organizations.
Chandaria has taken the time to help the less fortunate in society. He does this through The Chandaria Foundation, whose mission is to have citizens from African countries improve their lives through charity initiatives.
The foundation has its headquarters in Nairobi but helps people from over 11 African countries. 
One of the areas his foundation targets is education, whereby it offers scholarships to more than 150 students every year.
 It also supports schools in rural areas through the construction of classrooms and supply of books among others. 
In addition, The foundation invests in healthcare through construction of hospitals and other medical supplies in collaboration with local communities.
 Other areas include environmental activism, support and establishment of children homes to help children without shelter.