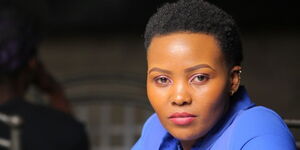 Naipanoi Lepapa is a freelance investigative and feature journalist based in Nairobi.
Naipanoi crafted her niche in gender, human rights, health and environmental reporting.
She also works with a digital media publication, The Elephant, covering culture and technology stories.
The award-winning journalist started her career as an intern at the Sun Weekly publication, covering education, health, climate and governance stories from 2015 to 2017.
In 2017, the Internet Society Kenya Chapter tapped into Naipanoi's expertise and hired her as a Social Media Manager.
In May 2022, Naipanoi surprised the media industry after emerging as Journalist of the Year in the Annual Journalism Excellence Awards (AJEA) by the Media Council of Kenya.
Naipanoi was feted following her investigative series titled Hard Labour: The Surrogacy Industry in Kenya, published by The Elephant and Africa Uncensored. 
The story uncovered a multitude of worrying allegations about the unregulated surrogacy industry in Kenya. 
In October, Naipanoi was also crowned by Gender Mainstreaming Awards for her role in empowering women in the East Africa region.