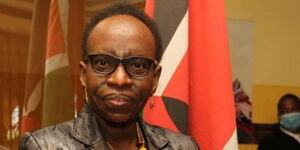 Ms. Nancy Gathungu is the Auditor General of Kenya via the Supreme Audit Institution (SAI) of Kenya, a position she has held since July 17, 2020. 
Gathungu has been instrumental in unravelling fraud and embezzlement in the country since her tenure started. 
Among the key scandals, she has brought to the limelight are the billions lost in the Kenya Medical Supplies Agency (KEMSA) Covid-19 scandal, Mileage fraud in Parliament and misuse of constituency funds directed towards the construction of schools. All these were in between the years 2020-2021. 
In October 2021, her office began investigating the 7.7 trillion public debt to fact check the accuracy of the treasury's records and ensure the loans are being serviced on time, preventing financial ruin for the country.
Prior to her appointment as Auditor General, Ms. Gathungu served as SAI Kenya's Director of Quality Assurance and as Chief Internal Auditor at Kenyatta National Hospital.
She holds a master's degree in business administration with an emphasis in strategic management and a Bachelor's degree in commerce accounting, both from the University of Nairobi.
Ms. Gathungu is a certified member and trainer with the Institute of Certified Public Accountants of Kenya; a member of the Association of Women  Accountants in Kenya, where she also serves as a mentor; and a member of the Kenya Leadership and Integrity Forum.
She is a facilitator and resource person on such topics as audit process, communications, ethics, governance, integrity, public finance,  risk management and has handled various high-level assignments for the African Organization of English-speaking Supreme Audit Institutions (AFROSAI-E)as well as the International Organization of Supreme Audit Institutions Development Initiative (IDI).