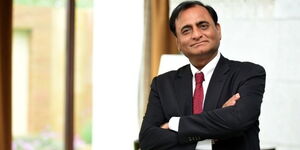 Dr. Narendra Raval is the founder and chairman of Devki Group, a regional manufacturing conglomerate with steel, cement and roofing sheet factories.
In March 2019, President Uhuru Kenyatta appointed Raval as the Chancellor of Egerton University.   
The billionaire industrialist, popularly known as Guru, was born in 1962 in a small village near Surendrangar, Gujarat, India. He got a chance to come to Kenya in 1978 and was assigned to teach children at a Hindu temple in Nairobi. 
After getting married in 1982, Raval secured a job at a steel factory owned by someone he had met while serving as a priest.
In 1990, he opened a small shop dealing with steel products which gradually expanded to become Devki Group.
In mid-October 2019, Raval's Devki Group paid Ksh5 billion to acquire Athi River Mining (ARM) after approval from the Competition Authority of Kenya.
Devki produces steel products, roofing sheets and cement among other things.
The company's CEO has played an integral part in fighting Covid-19 pandemic from contributing to the kitty to donating PPEs to health workers