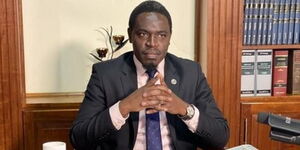 Nelson Andayi Havi is the President of the Law Society of Kenya (LSK). He was elected as President in February 2020, becoming the youngest head of LSK.
In 2021, Havi is still instrumental in leading the fight to protect the Constitution of Kenya. 
He was among the team of lawyers who argued out the illegality of the proposed constitutional amendment bill (2020), popularly known as the Building Bridges Initiative (BBI). 
As a result, the amendment Bill was declared unconstitutional, null and void by the Court of Appeal following a petition filed by BBI proponents to appeal a similar ruling made by the High Court. 
Havi was also part of a team of lawyers that challenged the government in court, in line with the return of exiled lawyer, Miguna Miguna. On November 22, High Court judge, Hedwig Ong'udi, ordered the state to allow Miguna back into the country. 
In addition, he has championed the upholding of the constitution. On numerous occasions, he has spoken against leaders who disregard Court orders. 
As LSK President, he wrote to former Chief Justice, David Maraga, recommending that President Uhuru Kenyatta dissolve his government as it was unconstitutional.
 Havi argued that the current parliament did not meet the two-thirds gender parity as demanded by the constitution.