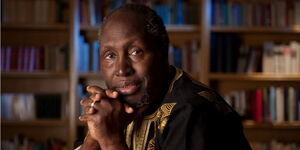 Ngugi wa Thiong'o is a Kenyan writer and academic who writes primarily in Gikuyu. His work includes novels, plays, short stories, and essays, ranging from literary and social criticism to children's literature.
He is the founder and editor of the Gikuyu-language journal Mũtĩiri. His short story The Upright Revolution: Or Why Humans Walk Upright, is translated into 94 languages from around the world.
He was considered for the 2019 Peace Prize for his literary works; "Decolonising the Mind: The Politics of Language in African Literature."
He is regarded as one of the most important voices in African literature. His essays, collected in his anthology Decolonising the Mind, determine the discussion of the continuing consequences of the colonisation of Africa to this day. 
In September 2020, he was feted by the Catalan government for the 31st Catalonia International Prize known as Premi Internacional Catalunya.
While making his acceptance speech in the Kikuyu dialect, Thiong'o disclosed that he was bedridden and had just undergone a heart surgery at a hospital in California, when he received the good news in December 2019.
"Just before they took me to the operating room, I wrote a will. Hence, when I received the news that I had been feted, I felt alive again, like I was being celebrated in the land of the living," Ngugi stated.
Some of the books the author has written include; Weep Not,  A Grain of Wheat, The River Between, Petals of Blood, Caitaani Mutharaba-ini, Mũrogi wa Kagogo among others.
Ngugi has been pushing other Africans to write books in their dialect.