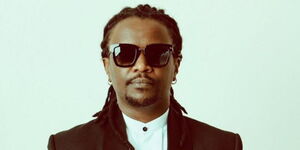 Nyamari Ongegu popularly known by his stage name Nyashinski is an award-winning Kenyan rapper.
In his early career days, he was one-third of a boy rap group known as Kleptomaniax together with Roba (Robert Manyasa) and Collo (Collins Majale).
Nyashinski took a break from music in 2006 when he moved to the USA to become a truck driver but made his comeback in 2016.
In 2022, the rapper launched his famous concert dubbed 'Shin City', which was first held in April at the Carnivor grounds.
According to the artist, the event was meant to offer his fans an opportunity to experience music and storytelling.
Additionally, this year he has also released big hits such as the song Properly featuring popular rapper Femi One, with the song amassing over six million views.
In November 2022, Nyashinski held the second edition of Shin City that saw him perform in front of a packed crowd at the sold out event. Before this, he had released four singles dubbed Therapy.