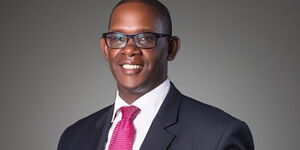 He is the current Chief of Staff and Head of the Presidential Delivery Unit, a position he has held since 2018. He is an Advocate of the High Court of Kenya and a Certified Public Secretary and a member of the Law Society of Kenya (LSK). He holds a Bachelor of Laws (LLB) degree from the University of Sheffield and a Masters (LLM) in IT and Communications Law from Queen Mary University of London.
Nzioka joined the government from Safaricom PLC where he served the company in various capacities ranging from his role as Legal Services Manager between 2002 and 2007 and thereafter as Head of Legal & Regulatory Affairs between the years of 2007and 2010 followed by a brief stint as Head of Strategy & New Business responsible for driving the company's mergers and acquisitions agenda, a position he held until April 2011 when he took up his present role as Corporate Affairs Director.
In 2020, Nzioka mobilized Kenyans to aspire to be a nation where political contests are won on the basis of promoting one's ideas, ideals and values.
He spent time highlighting the alarming impact of social media trolls that Kenyans level against each other.
He also played a leading role in the fight against the Covid-19 pandemic, working closely with other government officials to guide the country in the phased reopening.
"Normalization of social media trolling as a means to propagate ethnic bigotry, political violence and character assassination is not only dangerous, it has the potential to become self-perpetuating. It is a dragon so voracious that it will consume even its own tail," noted Nzioka.