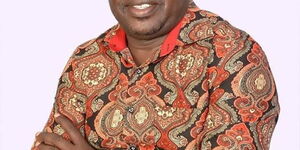 Human Rights Activist, Okiya Omtatah Okoiti, is not a  lawyer by profession, but many see him as the country's public defender number one because he has filed some of the biggest public interest cases that have shaped the economy and political landscape.
His quest for a just society has seen him get into trouble with law enforcers, persevering beatings and lockups. At one point in 2012, he lost four incisors after an attack that was blamed on hired goons.
Omtatah has been honoured with a Lifetime Achievement award from the National Coalition of Human Rights Defenders Kenya and the Working Group on Human Defenders. 
In August, Omtatah single-handedly won an 8-year court battle to recover over 800 acres of government land in Nasewa, Matayos Constituency in Busia County.
In September, Omtatah challenged the decision by the Central Bank to include an image of founding President Jomo Kenyatta on the new currency notes and as such contravened contravenes Article 231(4) of the Constitution. A three-judge bench at the High Court dismissed the case for lack of merit. 
"My activism is anchored on the Constitution of Kenya, 2010. My overriding objective is to the immense power of the Constitution to have the Judiciary entrench constitutionalism and the rule of law in the conduct of public affairs," Omtatah stated in an interview in 2019.