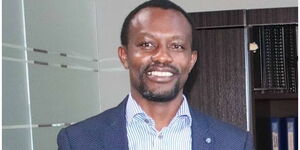 Orlando Lyomu is the Group Chief Executive Officer and Executive Director at The Standard Group PLC.
He graduated from the University of Nairobi and holds an MBA from Strathmore Business School.
Before joining the Standard Group, Lyomu served in different positions in Kenya's corporate industry. From Treasury Manager and Chief Accountant at Total Kenya Plc to Chief Financial Officer at Gulf Energy Ltd.
He has specialised in finance, strategy formulation and execution, revenue optimisation, Treasury / Cash flow management, internal controls, financial planning, financial analysis and operations management.
At Standard Group, the financial expert works closely with the Board to provide guidance to the teams, and lead in the formulation and execution of strategy.
In 2020, he launched an innovative and transformative project that put the organisation on a path towards being a digital first-media entity and with expanding revenue streams.
He is also a Member of Institute of Certified Public Accountants of Kenya