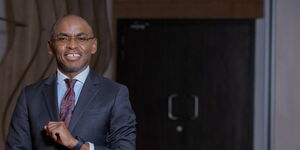 Peter Ndegwa is the Safaricom's Chief Executive Officer (CEO). His appointment in 2020 made him Safaricom's first Kenyan CEO.
Before joining Safaricom, Ndegwa was the Managing Director at Diageo.
Ndegwa began his tenure when Safaricom's growth had plateaued.
On October 6, Ndegwa made a breakthrough after engineering Safaricom's entry into Ethiopian telecommunication. 
Under his leadership, the Safaricom network started offering 4G data, voice and SMS services between Safaricom Ethiopia and Ethio Telecom customers.
During the launch, Ndegwa even revealed plans to reach 14 cities in Ethiopia by 2023.
In September,  Ndegwa also won the hearts of many Kenyans by lowering Safaricom Fuliza's daily charges for loans below Ksh1000 by 50 per cent and introduced a three-day grace period.
Ndegwa also spearheaded the success of the Safaricom Foundation, which partnered with Kenya Diabetes Management and Information Centre, benefiting over 2,000 people in Ahero, Kisumu County, with free consultations, diagnosis, surgeries and treatment.
The company also sponsored different sporting activities, including the inaugural rallycross competition held in Machakos County in July. The company announced a Ksh3 million sponsorship for the event.