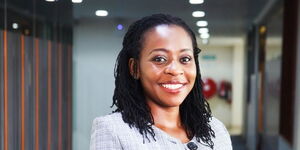 Phyllis Wakiaga is a Kenyan lawyer and corporate executive. She has served as the chief executive officer (CEO) of the Kenya Association of Manufacturers (KAM), since 2015.
She studied law at the University of Nairobi, where she graduated with a Bachelor of Laws, in 2005. Later, the same university awarded her a Master of Laws, majoring in International Trade and Investment Law.
In 2013, she joined the Kenya Association of Manufacturers (KAM), as the head of policy in charge of research and advocacy. In 2015, she was appointed as chief executive officer at KAM.
Wakiaga is the UN Global Compact Network, Kenya Chapter Board Chair, Kenya Industrial Water Alliance Chair and a member of the Kenya COVID-19 Fund Board. 
She represents KAM in a number of institutions including COMESA Business Council, EAC Manufacturers Network, Anti-Counterfeit Agency, and Anti-Illicit Trade Multi-Agency Forum amongst others.