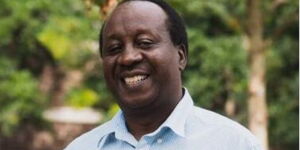 Prof Mungai Mutonya is a Teaching Professor of African and African American Studies, Department of African and African American Studies, Washington University in St. Louis since 2018.
The Professor has spent over twenty years teaching and conducting sociolinguistic research in the areas of Swahili variation and change, language attitudes and perceptions,  urban youth language varieties, African Englishes, and other emerging issues in densely multilingual African communities. 
Using methods of sociolinguistic inquiry, Mutonya has explored the functions of nonstandard language forms in promoting the interests of marginalized speech communities.
He received doctoral and master's degrees in Linguistics from Michigan State University in the USA. Prior to that, he earned his Bachelor's (with Honors) and Master's degrees in Swahili and African Linguistics from the University of Nairobi in Kenya.  He has taught language and literature courses at Washington University in St. Louis,  Michigan State University, and the University of Nairobi.
Professor Mutonya writes Swahili fiction. He has published plays and children's books. He recently participated in a short-story writing competition organized across Africa and its Diaspora by Goethe Institute Afrika. His short story earned him a place in the highly selective residency in Dar es Salaam in Tanzania.
In 2020, he was awarded by Carnegie Corporation and the Institute of International Education to embark on a joint educational project with the University of Nairobi, Kenya. 2020.
The Carnegie African Diaspora Fellowship Program (CADFP) is a scholar fellowship program for educational projects at African higher education institutions. 
His other awards include, Goethe Institute Afrika Young Adult Swahili story finalist. Sponsored to attend a writers workshop in Dar es Salaam, Tanzania. 2019; College of Arts & Sciences Course Innovation Grant, Dean of Faculty of Arts, Washington University in St.Louis, 2016; Civic Engagement Fund for Curriculum Development at the International Welcome School, Gephardt Institute for Civic and Community Engagement, 2012; Certificate of Appreciation, WU Women's Panhellenic Association, (for continued commitment and dedication to sorority community at Washington University in St. Louis), 2011 and Vitendo Shujaa Award, Kenya Community in St. Louis, 2011.