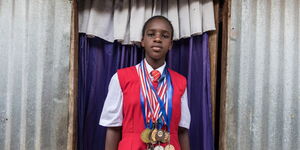 Sarah Momanyi has won national chess championships for her age bracket two years running. 
The slum where she lives, Mukuru kwa Njenga, is one of the grittiest in Kenya's capital, Nairobi. It makes headlines for cholera outbreaks, gang battles, prostitution rings and the city government's constant threats to raze it.
It is built on a wasteland between two industrial zones. Every alleyway is lined by two open gutters.
Sarah's achievements come despite both her parents' absence in her life. 
She has skills that could support her ageing grandmother, inspire her community and perhaps most immediately on her mind, be her ticket to seeing the world beyond Mukuru, and beyond Kenya.