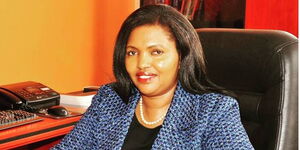 Tabitha Karanja is the Founder and CEO of Keroche Breweries, the first and largest brewery in Kenya owned by a non-multinational company.
Keroche breweries' accounts for more than 20 per cent of beer consumption in the country.
She joined the University of Nairobi where she pursued a degree in Business Administration and landed a job at the Ministry of Tourism as an accounting clerk. 
In 2010, Tabitha was honoured with a Moran of the Order of the Burning Spear for her efforts in liberalizing the liquor market by retired president Mwai Kibaki.
Her brand has also gained international and continental recognition.
In 2021, she bagged five awards during the Kenya Beverage Excellence Awards (KBEA) 2021.
The brewing company was named the 1st runner's up in the category for Manufacturer of the year.
It was ranked winner for the following categories; the most preferred alcoholic wine valley, the most preferred water in a glass bottle, which is the executive water frosted, the most preferred bottled designed water, executive limited edition, and the 1st runner's up in the glass winner of the most preferred malt, summit malt.