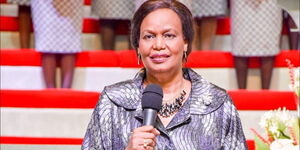 Reverend Teresa Wairimu is the founder and director of Faith Evangelistic Ministry (FEM).
She is an influential woman, who through her work, has impacted many people in Kenya and other countries. She is a recipient of the Martin Luther King Peace Award for Africa, an award given in recognition of her work.
The religious leader is also the author and has impacted millions in Kenyans through her ministry, including President Uhuru Kenyatta and Deputy President William Ruto. 
Her Ksh1 billion church was constructed debt-free and has over 20,000 partners, with offices in Kenya, US and UK.