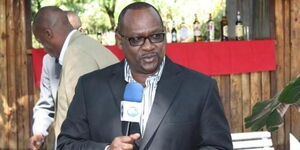 Wachira Waruru is the Group Managing Director of Royal Media Services which owns Citizen TV, Inooro TV and 12 other radio stations.
Waruru has been the Managing Director since 2007 when he was credited with shaping and driving the growth and expansion of Royal Media Services which has seen Citizen TV and radio stations dominate in their respective segments.
Throughout his tenure as the RMS boss, the media company has achieved a significant bump in viewership, largely due to Waruru's focus on local and diverse content boosted recently by a dynamic news team.
In 2018, Waruru was elected unopposed as the chairman of the Media Owners Association (MOA). At the same time, he doubled as the chairman of the media-led Presidential Debate series.
In July 2020, Waruru was conferred The Presidential Order of Service, Uzalendo Award by President Uhuru Kenyatta in recognition of his distinguished and outstanding service to Kenya in helping steer the country through the coronavirus pandemic.
In 2021, the genius MD expanded the media house into becoming a leader in the digital age with a phone App that was downloaded over a million times in a span of 24 hours. The app has ascended to become the number one news app countrywide.
RMS also launched the country's first ever Luo-broadcasting TV network dubbed, Ramogi TV.