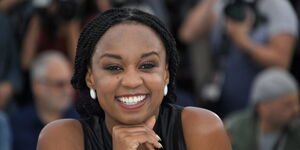 She is a renowned filmmaker who stood tall in the face of adversity with her controversial movie Rafiki (2018), which won her multiple awards in 2019. 
Rafiki, was banned in Kenya by the Kenya Film Classification Board (KFCB) after it was cited for promoting the rights of LGBTQ+ community. 
Wanuri also won the Young Programmer's Choice Award at the Dublin International Film Festival 2019.
She was featured as the Next Time 100 Most Influential People in the world for her daring films.