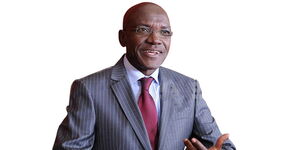 Boniface "Boni" Khalwale is a Kenyan politician who served as Kakamega between 2013 and 2017. Khalwale was born in Malinya village on August 5, 1960.
He describes his upbringing as humble as his mother was a chang'aa brewer whom she fondly refers to as an industrial chemist. 
Despite his humble roots, Khalwale was an academically gifted student and was enrolled to study medicine at the University of Nairobi. It was at UoN that the political bug hit him. 
In 1982, while in his second year, he was among university students who supported Kenya Airforce soldiers in their aborted coup against President Daniel arap Moi.
Khalwale, alongside five of his colleagues, among them Shem Ochuodho, David Murathe, fallen SONU leader Titus Adungosi (deceased), the students stormed then Voice of Kenya (now KBC) offices, to declare that university students were in full support of the coup. For this, the students were arrested and spent a few months in prison. 
After his graduation, Khalwale kept a low political profile as he built his career as a doctor specialising in gynaecology. However, in 2002, he was elected Ikolomani MP on a NARC ticket and went on to serve as Assistant Minister for East African Community.
In 2007, he teamed up with the late Cabinet Minister Soita Shitanda to form the New Ford Kenya party which he used to defend his parliamentary seat.
However, President Mwai Kibaki did not reappoint him as an assistant minister in his second term. He then became a prolific backbencher who chaired the powerful Public Accounts Committee (PAC).
The committee was previously held by the Official Opposition Leader but after the 2008 coalition agreement, there was no opposition party that allowed Khalwale to assume the position. 
His most famous motion as PAC chair was the censure motion against the then Finance Minister Amos Kimunya, giving rise to the famous "Kimunya Must Go" phrase. His reputation saw him elected Kakamega Senator in 2013 but lost the 2017 general election when he sought the gubernatorial seat.