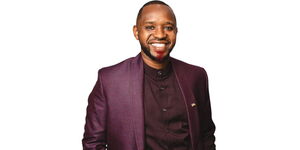 Boniface Mwangi is a Kenyan Photojournalist, politician and activist. He is majorly involved in social-political activism. 
He is the co-founder of Pawa-254 which he runs alongside his wife, Njeri Mwangi. Pawa 254 was formed in 2010. 
At 36, the activist has championed justice and called out powerful leaders for their corruption and violation of human rights. 
His commitment to promoting a peaceful co-existence in Kenya has come at a heavy price. In 2017 he was arrested for allegedly letting pigs loose in front of the parliament to demonstrate the greediness in Parliament. His 2017 arrest was featured on CNN. 
He was arrested again on May 6, 2019, for allegedly plotting demonstrations and cause civil unrest. In July 2020, he was arrested again during the Saba Saba demonstrations that turned chaotic in Nairobi. He was detained at the Central Police Station for allegedly heading to the said station demanding the release of a protestor by the name Sankara Kinuthia.
On May 28, 2020, Mwangi was awarded the 2020 Outstanding Youth Peace Maker Prize during the Luxembourg peace ceremony which took place at the University of Luxemburg. 
He was chosen because of his outspoken activism against injustices in Kenya. He joined activism after documenting the 2007/08 post-election violence as a photojournalist for the Standard Newspaper. 
His entry into elective politics was in 2017 when he vied for the Starehe Constituency Member of Parliament post under his Ukweli Party. However, he lost to musician Charles Njagua Kanyi also known as Jaguar. 
His entry into active politics is featured in an award winning film titled Softie. Softie. The docudrama film takes a deep look into what pushes Mwangi to continue being an activist championing social and political change. It explores the complexities of running a clean campaign against opponents who are corrupt.
His recent activities include speaking on the reckless driving by Kenyan VIPs and government officials. In January 2020, the activist blocked a VIP motorcade that was driving on the wrong side of the road. He parked his car and refused to move, forcing the MP to follow the traffic jam like other motorists.