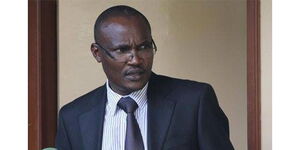 John Mbadi is the current Suba Constituency Member of Parliament after being elected on an Orange Democratic Movement (ODM) ticket. He also serves as the minority leader in the National Assembly of Kenya. Mbadi was in the Public Accounts Committee that looked into the National Youth Service Scandal. 
He is the ODM Chairperson.  Mbadi studied at the university of Nairobi and graduated with a Bachelor of Commerce Degree and a Masters of Business Administration (MBA). He also holds Certified Public Accountant (Kenya) qualifications.
He once served as  Assistant Accountant of Student Welfare Authority as well as Accountant and Senior Accountant at the University of Nairobi among other positions.
As a member of the Public Accounts Committee and the Budget & Appropriations Committee Mbadi has played a leading role in ensuring that public money is well spent. 
On politics, Mbadi as leading ODM brigade, has helped a great deal in setting the agenda around political matters in the country in 2020 and 2021, specifically handshake and BBI initiative.