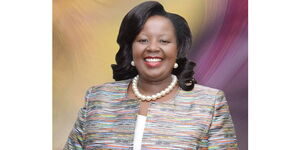 Margaret Wanjiru Kariuki is a televangelist and Nairobi-based politician. Wanjiru served as Starehe MP and Assistant Minister for Housing between 2008 and 2013. 
Wanjiru was born in Nairobi on December 22, 1961. She describes her upbringing as based on extreme poverty and she had to do odd jobs in her teen years including working as a house help and as a hawker.
At the age of 18, she got married to a peasant farmer named James Kamangu in Gachie, Kiambu County. 
It was in Gachie that she claimed to have been inducted into the life of satanism and witchcraft and although the marriage produced three children, it did not last long although it would later become a heated topic in her political career. 
After leaving her matrimonial home, Margaret became born again and started preaching in the streets of Nairobi. 
By the 2000s, her church was one of the most popular - complete with a prime televangelism slot on national TV and a popular place for politicians to get their message to the city voters. 
The connection helped her win the Starehe parliamentary seat in 2007 on an ODM ticket. The Starehe race gained national prominence as it cast a spotlight on her family and past marital ties. 
In 2006, she had announced an intention to get married to a South African pastor, Reverend Samuel Matjeke - but the wedding was called off after a string of bad press caused by Kamangu's emergence as he attempted to sue the bishop to get parental rights to their children. 
Kamangu was suspected to have been hired by the televangelist's opponents in the Starerehe parliamentary race but she was not one to back down. At one time, her children addressed a press conference to disown their peasant father who has since died. 
Despite the mudslinging, Margaret was elected Starehe MP in 2007 on an ODM ticket and was later appointed assistant minister in the grand coalition government. 
In 2013, she unsuccessfully vied for Nairobi senatorial seat but lost to Mike Sonko. She subsequently unsuccessfully sought the Jubilee ticket for the Nairobi gubernatorial race in 2017.
She is one of the frontliners eyeing the city governor's seat in 2022 on a UDA ticket.