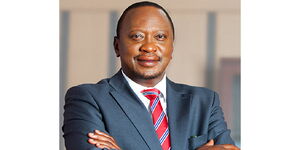 Uhuru Kenyatta is the President of the Republic of Kenya and the leader of Jubilee Party. He is the son of the founding President Jomo Kenyatta and his fourth wife Mama Ngina Kenyatta.
Uhuru was elected to the Presidency in 2013 and later re-elected in 2017 for a second term in a hotly contested General Election.
He was born in 1961 and was privileged with an Education at St Mary's School between 1979 and 1980 before proceeding to Amherst College to study economics, political science and government
He was nominated into Parliament in 2001 and ascended to become a Cabinet Minister under the Daniel Moi regime.
In 2020, Uhuru was praised for his handling of the Covid-19 pandemic when it hit the country in March maintaining a positive rate at a relatively lower level as compared to some more developed countries.
He launched a number of projects with the most notable being the construction of the Nairobi Expressway expected to reduce travel time to 20 mins.
Other projects launched by the Head of State in 2020 include the Likoni Floating Bridge in Mombasa, the Nairobi Commuter train valued at Ksh1.15 billion and the Moyale Border Post valued at Ksh 800 million.
His handshake with the former Prime Minister has also boosted unity in the country with another project to change the Constitution via a referendum dubbed 'Building Bridges Initiative' still in the pipeline.
In 2021, Uhuru placed five counties in Kenya under a lockdown to curb the spread of Covid-19, a path less travelled by many other presidents across the continent and the world.