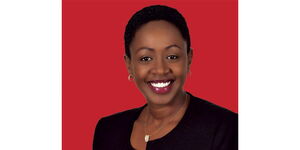 Sabina Wanjiru Chege is currently in the Kenya National Assembly as the woman representative for Murang'a County.
Sabina Wanjiru Chege attended the Kenya Institute of Management and the University of Nairobi where she obtained a Bachelor of Education degree and a Master's degree in communication. She is also a former television actress and radio presenter. 
 Prior to entering politics she was an actress in the television soap Tausi where she played the role of Rehema. She subsequently worked as a radio presenter at Kameme FM and Kenya Broadcasting Corporation. 
In her first term in parliament she was chairperson of the Departmental Committee on Education, Research & Technology and a member of the Constitutional Implementation Oversight Committee. Since 2017 she has served as chairperson of the Parliamentary Committee on Health.
In 2019 she sponsored the Kenya National Blood Transfusion Service Bill which commercialised blood transfusions and created a new national body to coordinate blood donations nationally. She also sponsored the Breastfeeding Mothers Bill that would require employers to provide facilities and breaks for employees who were breastfeeding.