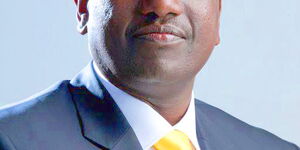 Ruto was born 21 December 1966 in Kamagut, Uasin Gishu to Daniel Cheruiyot and Sarah Cheruiyot. He attended Kerotet Primary School for his primary school education then joined Wareng Secondary School for his Ordinary Levels education before proceeding to Kapsabet Boys, Nandi for his Advanced Levels. He then went on to receive a BSc (Botany and Zoology) from the University of Nairobi, graduating in 1990.
He was also a member of Christian Union where he served as Chairman. He was ranked the best student in his class. He later enrolled for MSc in Environmental Science, graduating in 2011. He is currently pursuing a PhD from the same University.
Ruto was Organising Secretary of Youth for Kanu '92 (YK92), a group that was formed to drum up support for President Daniel arap Moi in the 1992 election. In January 2006, Ruto declared publicly that he would stand for the presidency in the next general election, scheduled for December 2007. His statement was condemned by some of his KANU colleagues, including former president Moi.
Ruto sought the nomination of the Orange Democratic Movement (ODM) as its presidential candidate, but in the party's vote on 1 September 2007, he placed third with 368 votes, behind the winner, Raila Odinga (with 2,656 votes) and Musalia Mudavadi (with 391). Ruto expressed his support for Odinga after the vote. He resigned from his post as KANU secretary general on 6 October 2007.
The presidential election of December 2007 ended in an impasse. Kenya's electoral commission declared Kibaki the winner while exit polls had clearly placed Raila Odinga in front. Raila and ODM claimed victory. In a scene that has been replicated all over Africa, Mwai Kibaki was hurriedly sworn in as the president December 2007 presidential election.
Following the election and dispute over the result Kenya was engulfed by a violent political crisis. Kibaki and Odinga agreed to form a power-sharing government. In the grand coalition Cabinet named on 13 April 2008 and sworn in on 17 April,
Ruto was appointed as Minister for Agriculture. U.S. Secretary of State Hillary Rodham Clinton (center) walks with Kenyan Minister of Agriculture William Ruto (left) and Kenyan environmental and political activist Wangari Maathai (right) during a tour of the Kenyan Agricultural Research Institute (KARI) near Nairobi, Kenya August 5, 2009. On 21 April 2010, Ruto was transferred from the agriculture ministry and posted to the higher education ministry, swapping posts with Sally Kosgei. On 24 August 2011, William Ruto was relieved of his ministerial duties, and remaining a member of parliament.
He joined hands with Uhuru Kenyatta to form the Jubilee alliance for the 2013 presidential election. On 6 October 2014 Ruto was appointed acting president of Kenya by President Uhuru Kenyatta following his summons to appear before the ICC.