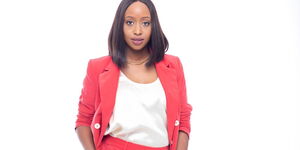 Hailing from the coastal side of Kenya, County 001, Janet Mbugua started off her career in media at the age of 19 at 98.4 Capital FM. She made her debut as a news anchor, reporter and producer for a show called 'Africa 360' on ETv in Johannesburg, South Africa. Moreover, Broadcast Journalism was not her only passion, Janet made her debut as an actress by appearing in a sitcom called RUSH.
During her 10 years in Broadcast Journalism, Janet developed a bone for humanitarian work, she founded Inua Dada campaign which was endorsed by Kenya's first lady, Margaret Kenyatta, as well as doubling up up as the director at Media Avenue Limited. Moreover during her break from media, she also took up a job with Kenya Red Cross Society where she was incharge of communication and advocacy.
Janet Mbugua worked as a news anchor, reporter and producer at Citizen TV hosting Monday Special and the Big Question for 5 years. This year she took a break from media for 3 years after quiting Citizen Tv before making her comeback on NTV with a new show called 'Here and Now' with Janet Mbugua. 
In May this year Janet Mbugua filed a petition to the Members of Parliament seeking for the improvement on the Menstrual Health Management policy in Kenya to ensure all women in Kenya are receiving adequate MHM services pointing out that the current government policy on MHM in Kenya is Insufficient. She also recently released her own book making her debut as an author with a new book titled 'My First Time'
Some of her achievements include:
Being named as one of the top three best News Anchors in Kenya by the Media Council of Kenya in 2014
Being appointed Brand Ambassador for the Lifebuoy Help A Child Reach 5 campaign, representing Kenya globally in 2016. She is currently pursuing her MBA
Being one of the recipients of the Top 40 Under 40 Award by Business Daily Africa, in 2015