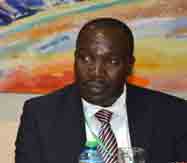 Julius
Korir
Mr. Julius Korir was appointed the Industrialization Secretary, Ministry of Industrialization and Enterprise Development from May 2014. Previously he has served in Export Promotion Council for over 15 years in various positions rising up to become the General Manager in charge of Trade Information and Business Advisory Services in 2008.
For one year between August 2011 and August 2012, he served as the Acting Managing Director for the Kenya Investment Authority (KenInvest).
Mr. Korir holds an MBA in International Business and a BSc. Degree in Agricultural Economics. His area of specialization is mainly in the area of export trade promotion, investment destination, private sector development and small enterprise competitiveness enhancement. He also has wide knowledge in implementing best practice in export trade promotion and market linkages strategies.
Mr. Korir has extensive experience in planning, coordinating and executing group country participation in international trade fairs/exhibitions as well as preparing enterprises (supplier preparations) for effective participation in the promotional events. He has also been engaged in managing donor funded projects.
He has also been involved in managing Public/Private Partnership (PPP) initiatives to bring together public and private sector stakeholders. He has spearheaded strategies and initiatives of 'making markets work for the poor'. Such initiatives include establishment of Export Production Villages (EPVs)/clusters.