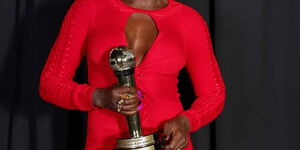 Esther Akoth is a celebrated musician who has consistently sold out shows and is known for her electric performances and kind heart. 
Her intervention during the drought that hit Turkana warmed the hearts of many Kenyans, among them Rachel Ruto. 
Though she didn't save the day all by herself, she was able to mobilze well-wishers in a way that earned her admiration even from perceived critics. 
In just under two hours, she was able to raise more than Ksh1 million. 
Akothee claimed the coveted title at the 6th annual African Muzik Magazine Awards (AFRIMMAs) which took place on Saturday October 26, 2019 in Dallas, Texas.