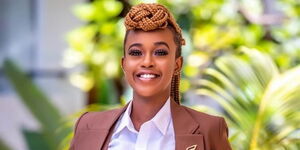 Azziad Nasenya is a 19-year-old online content creator who became an internet sensation in 2020. 
She is currently a second-year college student at the Kenya Institute of Mass Communication, where she is pursuing a course in Mass Media.
Today, Nasenya is sitting pretty as the global ambassador for Save Our Future barely eight months since she broke out as a star.
She became famous after Tik-Tok videos of her dancing to popular songs went viral in April 2020. 
She also secured a spot on the cast of Selena, one of the country's most-watched TV shows.
Azziad was able to command a large audience, many of whom fall between the 18-34 years demographic.