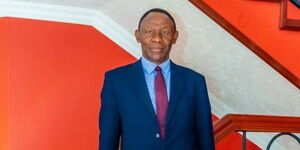 Prof. Bitange Ndemo is an Associate professor in Entrepreneurship and Research Methods and Management lecturer at the School of Business, University of Nairobi (UoN).
The ICT specialist is a former Permanent Secretary (PS) in the Ministry of Information and Communication. 
During his tenure, he was key in the initiation of transformative projects such as the development of the undersea cables into East Africa and the development of the Kenya Open Data Initiative.  
He also oversaw the implementation of policies that enabled M-PESA's establishment. Kenya is now benchmarked as a case study in mobile money implementation across the world.
Bitange holds a PhD in Industrial Economics from the University of Sheffield in the UK, an MBA from University of St. Thomas, Minnesota USA.
He also has a Bachelor's degree in Finance and Accounting from the University of Minnesota.
He sits on several Boards including Safaricom, M-PESA Foundation and Research ICT Africa. 
He is a senior advisor to the United Nations Capital Development Fund (UNCDF) Better than Cash Alliance and the UN Global Pulse.