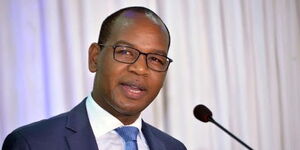 Joshua Oigara is the Group Chief Executive Officer of the Kenya Commercial Bank (KCB), the biggest bank by asset base.
He holds a Bachelor of Commerce from the University of Nairobi as well as an accounting certification at Strathmore University School of Accountancy. He also holds a Master of Business Administration from Edith Cowan University.
Oigara had hit a number of milestones before ascending to the helm of KCB Group. He served as the Chief Finance Officer as well as Member of the Board of Directors of the bank between January 12, 2012 and January 2013. He was appointed as CEO in 2013 age 37 years old.
Before Joining KCB in 2011, Oigara had worked as Group Financial Director as well as the Chief Financial Officer for the East Africa region at Bamburi Cement. 
In 2019, Oigara was ranked among the highest earning CEOs after he pocketed Ksh299.1 million.
In 2020, the bank, under his stewardship, helped fight the Covid-19 pandemic by donating one million facemasks for school as well as over Ksh100 million to fight the pandemic.