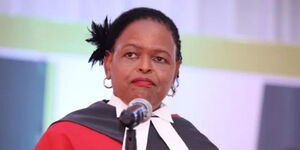 Martha Koome is the Chief Justice of the Republic of Kenya. She made history, becoming the first woman to head the judiciary in Kenya. 
In her first 100 days in office, the lady Justice embarked on a quest to ensure rapid delivery of justice. This, she would do by pushing for the hiring of more judges in a bid to reduce the backlog of cases in the country. 
Notably, she implored the use of technology as a tool to increase the efficiency of the judiciary. Today, in the advent of the Covid-19 pandemic, court proceedings that had been put on hold are now taking place online. 
In addition, she has pushed for more funding of the judiciary, which had been under-financed, thus undermining its efficiency. 
Lady Justice Koome has put effort to amend the strained relationship between the judiciary and the executive. She has worked together with several ministries including the Ministry of Internal Security and ICT. 
During her tenure, the judiciary has been more involved in National Processes. She leads the National Multi-Sectoral Consultative Forum on Election Preparedness.