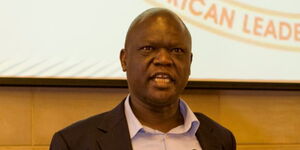 Christopher Situma Khaemba is the former headteacher of Alliance High School and the founding dean of the African Leadership Academy in South Africa. He founded the academy in 2008 after moving to the southern Africa Country.
Widely regarded as one of Africa's leading educationists, Khaemba was named the head administrator of the new institution at its inception in September 2008. 
He had served as Principal of Alliance for 10 years, during which period he oversaw the re-establishment of the school's strong performance in academics and involvement in extracurricular activities.
He attended Kenyatta University in Nairobi and graduated with an MBA. He also served as a pilot with the Kenya Air Force.
He is currently the leader of Nova Pioneer Schools offering Kenya's high school curriculum that is enriched with innovation and entrepreneurship modules and practice and is widely regarded as one of Africa's leading educators.