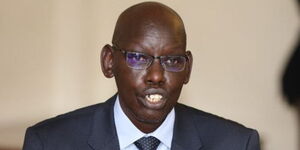 Dr Belio Kipsang is the Principal Secretary (PS) in charge of Regional and Northern Corridor Development.
He served as the PS for Education before moving to the State Department of Regional Development in February 2022.
Notably, Belio was nominated as the PS for Basic Education by President William Ruto in October 2022.
The long-serving PS is credited for the establishment of the National Education Management Information System (NEMIS) - a unique system that enabled the government to disburse capitation to schools and synchronise data for students.
Belio is also credited for increased student capitation and waiver of examination fees for KCPE and KCSE students.
Apart from his role in government, he is a member of the Finance Alliance for Sustainable Trade (FAST) and a delegate of the government at the International Coffee Organization (ICO).  
He is a holder of a PhD in Education from The Catholic University of Eastern Africa,
Belio also holds a Master's degree in Economics from the University of Nairobi.