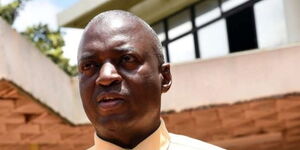 Dr. Lutomiah has over 40 years of research experience. He's an expert in parasitology, entomology, pandemic influenza, & arbovirology. 
He's written dozens of scientific papers & he leads 6,000 top minds at Kenya Medical Research Institute (Kemri).
He served as the Director in the Center for Virus Research at Kemri where his controversial sacking due to delayed Covid-19 results led to a public outcry.
He was a long time teacher who put St Peter's Mumias High School on the academic map as number one school in Biology for many years. While serving as a teacher, Dr Lutomiah was a renowned examiner of Biology, and a judge during secondary schools science congress in Kenya.
Dr Lutomiah is arguably one of Kenya's best brains and innovative thinkers in virology.
On June 24, the Senate's Ad Hoc Committee on the Corovanirus unequivocally condemned Health Cabinet Secretary Mutahi Kagwe on the dismissal of the gifted doctor.