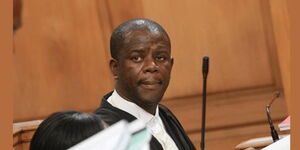 Duncan Matundura Ondimu is a Principal Prosecution Counsel at the Office of the Director of Public Prosecutions Kenya (ODPP).  He is the head of the ODPP's headquarters in Narok, Kajiado County. 
He was the lead state counsel in major cases in 2021 such as the Nyeri Billionaire accused of murdering his son to ex-KDF Major - Peter Mugure's - murder case. 
Ondimu is also a champion of social justice, working on cases centring around appeals, International Law, Criminal Law, Criminal Defense Litigation, and International Arbitration.
The attorney has an LLB in Law from Kampala University and a Post-Graduate Diploma in Legal Practice, Law from the Law Development Centre. 
He is a former Advocate at M/s Ondimu & Co. Advocates in Uganda and a former Lecturer at Kampala International University.
He is an International Visitor Leadership Program 2017 Alumni.