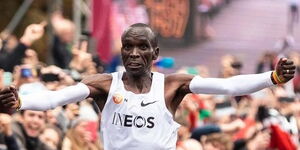 Eliud Kipchoge is a Kenyan athlete currently specializing in the marathon. 
He has a well-decorated career as an athlete dating back to 2003 when he won his first major race. 
Kipchoge started his career as a 5000 metres runner before switching to road marathons. Since shifting his focus from the track to the marathon, Kipchoge has had an outstanding career with major achievements and accolades. 
He has two Olympic gold medals to his name which he won in the 2016 and 2020 championships. 
In 2022, the veteran athlete extended his fine form with the most significant moment being his record-breaking victory in the Berlin Marathon. 
Eliud's career as an athlete has been an inspirational story as it is embodied in his proclaimed motto, "No Human is Limited". 
He became the first ever man to cover a 42-kilometre marathon in under two hours when he ran in the Historic INEOS marathon in Vienna, Austria.