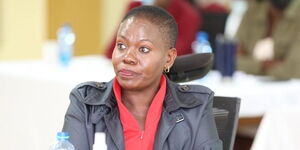 Farida Karoney is the Cabinet Secretary (CS) for Lands and Physical Planning. 
She was instrumental in effecting the digital changes at the Lands Ministry through the launch of Ardhi Sasa - the National Land Information Management System (NLIMS) in April 2021. 
Through the platform, Karoney cleared the confusion centred around land purchase, sale and registration through different laws that fostered fraud, delays in service delivery, centralisation of land services and threats to the right to property.
She also led the country into migrating to the purview of the Land Registration Act  2012 signalling the replacement of all land titles registered under the previous laws; Indian Transfer of Property Act of 1882, the Government Lands Act (Cap.280), the Registration of Titles Act (Cap.281), the Land Titles Act (Cap.282) and the Registered Land Act (Cap.300).
This process streamlined services at Lands offices and increased the tax base for the government. 
Prior to her appointment as CS in 2018, Karoney was the Chief Operating Officer (COO) at Royal Media Services (RMS). 
She was also a Group Editorial Director at RMS and the Assistant Director, Broadcasting at Standard Media Group. 
Karoney has a PhD in Philosophy and Strategic Management from the University of Nairobi (UoN), Master of Business Administration Strategy and Post Graduate Diploma, Mass Communication from the same university.