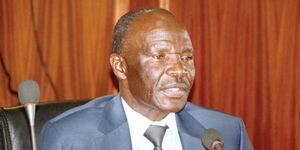 The retired Major General is a PS in the Ministry of Energy, a post he was transferred to in September 2021 from the Ministry of Public Works. 
Kihalangwa is spearheading change in the Energy docket under Cabinet Secretary Monica Juma. The two introduced major changes to curb cartels and embezzlement of funds at Kenya Power, an entity that for years has recorded billions of losses. 
Among these are contract negotiations between Kenya Power and private energy suppliers, reduction of tariffs, appraisal of Kenya Power staff and cutting down bloated wage budgets through flashing out ghost workers. 
While serving under the Ministry of Interior as the Head of Immigration, Kihalangwa oversaw the rollout of new chip-embedded passports for Kenyan citizens in a move that targeted rampant forgery and impersonation of current passport holders.
This significantly reduced fraud and improved rankings of Kenyan passports on the passport index pre-covid.
Kihalangwa retired from the Kenya Defence Forces in 2013. 
He previously served as Head of the Military Police before he was elevated to Assistant Chief of Defence Forces responsible for personnel and logistics at Defence Headquarters.