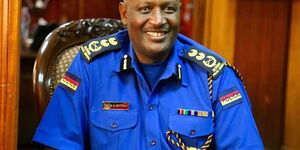 Hillary Mutyambai is the country's Inspector General of Police (IG). He is a trained police officer whose stellar career in the police service saw him rise from a junior officer in the then Kenya Police Force in 1991 to the rank of Superintendent of Police before joining the then Directorate of Security Intelligence in 1998.
He previously worked as an Assistant Director with the National Intelligence Service (NIS) before being moved to the National Counter Terrorism Centre (NCTC).
He also has special training on counter-terrorism and advanced security from the US and Operational Management learned in the United Kingdom and Policing, Intelligence and Counter-Terrorism from Israel.
Mutyambai holds a Bachelor's degree from the University of Nairobi and a Master's of Arts degree in National Security Policy from the Australian National University — the same institution where Joseph Boinnet acquired his Master's degree.
The IG has been instrumental in ordering and enforcing Covid-19 containment measures prescribed by the government to contain the spread of  Covid-19 in the country.
The Inspector-General launched an online engagement forum to engage Kenyans in an attempt to address their needs.
He committed towards having the police exercise their duties with decorum and within the confines of law after cases of police brutality increased during the pandemic.