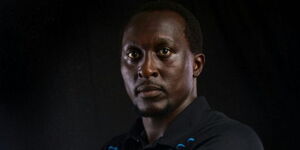 Humphrey Kayange is a former rugby union player and the former captain of the Kenya Rugby Sevens Team.
In 2010 Kayange was awarded the presidential Order of Golden Warriors (OGW) alongside his brother Collins Injera, for their performance in the 2008/2009 IRB world series.
He appeared at two Commonwealth Games, in 2010 and 2014, and led the team that won Kenya's first-ever World Series Cup title in Singapore in 2016.
The 39-year-old organic chemist who has had a successful career finally bowed out during the 2016 Rio Olympic Games.
In 2021, Kayange was elected to the International Olympics Committee (IOC)  Athletes' Commission as an IOC member.
The decorated player was inducted into the World Rugby's Hall of Fame by Tudor on October 27, 2021, which recognizes rugby's greatest players in the world with an outstanding contribution to the game of rugby throughout their careers, demonstrating rugby's character-building values of integrity, passion, solidarity, discipline, and respect on and off the field.