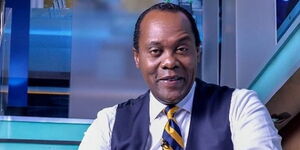 Koinange is a Kenyan journalist and host of Jeff Koinange Live talk show on Citizen TV.  
He previously served as the Africa correspondent for CNN from 2001 to 2007, and later as reporter at K24 TV from 2007 to December 2012.  He also worked as the chief anchor Africa for Arise Television Ltd based in South Africa and the Kenya Television Network (KTN). 
In 2019, Koinange helped 13-year-old Bianca Wambui fighting breast cancer to raise over 20,000USD (2million KShs) in an hour while on his show - JKLive.  He helped the girl raise funds for cancer treatment.
In 2020, Koinange took a leading role to educate Kenyans on the dangers of the Covid-19 pandemic after he tested positive for the virus. He was among the first Kenyans to go public with their status. 
He took Kenyans through his journey as well as brought in guests to discuss matters around coronavirus and how Kenyans can shun stigmatization.
Through his show - JKLive - he has kept millions of Kenyans glued to the screen as he highlighted issues around good governance, corruption, health and social life.