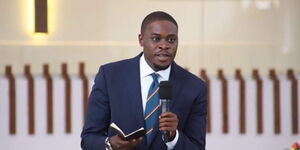 Johnson Sakaja is the current Governor of Nairobi County, following his election to the position on the August 9, 2022, General Election. 
He previously served as the County's Senator for five years between 2017 and 2022. The politician has worked at Pricewatercoopers (PwC), and a cyber cafe before setting up a financial consultancy firm, Arthur Johnson Consultants. '
Over his political career, Sakaja is renowned for championing the rights of school-going children to access at least one meal a day by sponsoring the National School Lunch Bill.
The governor noted that the move was aimed at targeting millions of children in poor regions who lack basic amenities.
He along with other senators pushed for a Parliamentary Audit Office to be established in a bid to curb corruption within national and county governments.
In the lead-up to the August 9 General Election, his Actuarial Science degree at the University of Nairobi was challenged in court- leading to the Governor presenting a degree from Team University to IEBC. The courts later dropped the charges and IEBC cleared the governor to vie in the election. 
Sakaja clinched the gubernatorial seat in a hotly contested race against Azimio's Polycarp Igathe.
After taking up the role, Sakaja has impounded bodabodas and matatus in CBD, ordered a crackdown in Nairobi over the rise in criminal cases and banned trading activities on footbridges. 
In a bid to curb crime, Sakaja has also launched a crackdown on unlicensed taxis and noted that youth would be paid Ksh2,500 a week for tree planting.