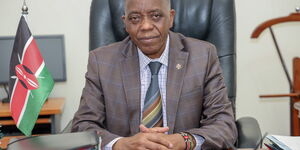 Joseph Kinyua is the Head of Public Service. He is one of Kenya's oldest civil servants having been appointed by President Uhuru Kenyatta when he ascended to power in 2013.
Kinyua's career began in 1978 as an assistant lecturer at the University of Nairobi. He joined the Central Bank of Kenya in 1980 as an Economist before rising to the rank of Director of Research.
Between 1985 and 1990, he worked as an economist with the International Monetary Fund (IMF) before rejoining the Central Bank of Kenya.
Kinyua served as the Permanent Secretary, Ministry of Finance from 2002 until January 2003 when he was appointed Permanent Secretary in the Ministry of Planning and National Development.
He has served on several boards of State Corporations. He is a member of the Programme Committee of the African Economic Research Consortium (AERC) and Alternate Governor, World Bank Board of Governors.
In 2020 he banned all state officers from sitting on the boards of parastatals as independent directors as part of austerity measures to curb further wastage of revenues in a bleeding economy weighed down by massive corruption, excessive spending, ballooning public debt and declining revenue collections.
In an effort to contain the spread of Covid-19, Kinyua through the National Security Advisory Council (NSAC) restricted all political gatherings after violence erupted in Kenol, Murang'a county.