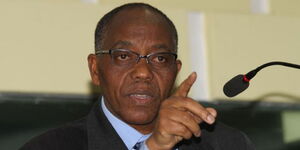 After leading a successful 42-Year-old career in public service culminating in him becoming the Head of the Public Service, Joseph Kinyua formally stepped down from the role in October 2022.
In his previous role, Kinyua was instrumental in overseeing the execution of economic policies and helped craft the state's annual budget.
He first joined the service in 1980 as an attaché at the Central Bank of Kenya in 1980 and rose through the ranks serving Presidents Mwai Kibaki, Uhuru Kenyatta and William Ruto.
During his career, Kinyua worked at the International Monetary Fund between 1985 and 1990 before making a comeback at CBK.
He was then appointed as the Permanent Secretary, Ministry of Finance in September 2002, a position he held until January 2003 when he was appointed Permanent Secretary in the Ministry of Planning and National Development.
In July 2003, he was appointed Permanent Secretary in the Ministry of Agriculture where he served until July 2004 when he was reappointed Permanent Secretary to the Ministry of Finance. Mr. Kinyua has served on several boards of State Corporations. He is a member of the Programme Committee of the African Economic Research Consortium (AERC) and Alternate Governor, World Bank Board of Governors.